Etronix Battery Doctor Li-Po/Li-Fe Battery Balancer/Discharger/Meter
 The Etronix Battery Doctor Balance/Discharger is designed for Li-Poymer and Li-Fe batteries between 2 and 6 cells. It can measure battery voltage precisely, balance individual cells or discharge batteries in preparation for storage. The balance and discharge function matches the individual cell to within ± 0.01V.
The balance function can be executed before, during, or after the battery has been charged to ensure that your battery pack remains in optimum condition. The clear display continually updates with whole battery and individual cell voltage allowing you to monitor your pack for a faulty or poorly performing cell.
The discharge function can be used to safely discharge all cells in the pack to a safe storage voltage. To prevent over discharging the user can set the discharge cut off 
Battery Doctor Specifications
Measurable battery type and amount: Li-Polymer / Li-Fe 2-6 cell (standard voltage 7.4V - 22.2V using divided voltage connector)
Balance voltage setting range (lower limit): 2.0V - 3.9V (pre setting value 3.2V)
Receiver battery voltage testing: 1.2V - 8.5V DC (Not limited to battery type, but requires external power 7.4 - 11.1V Li-Polymer / Li-Fe (use JST balance connector)
Discharge voltage setting range (lower limit): 3.0V - 4.2V (pre-setting value 3.9V)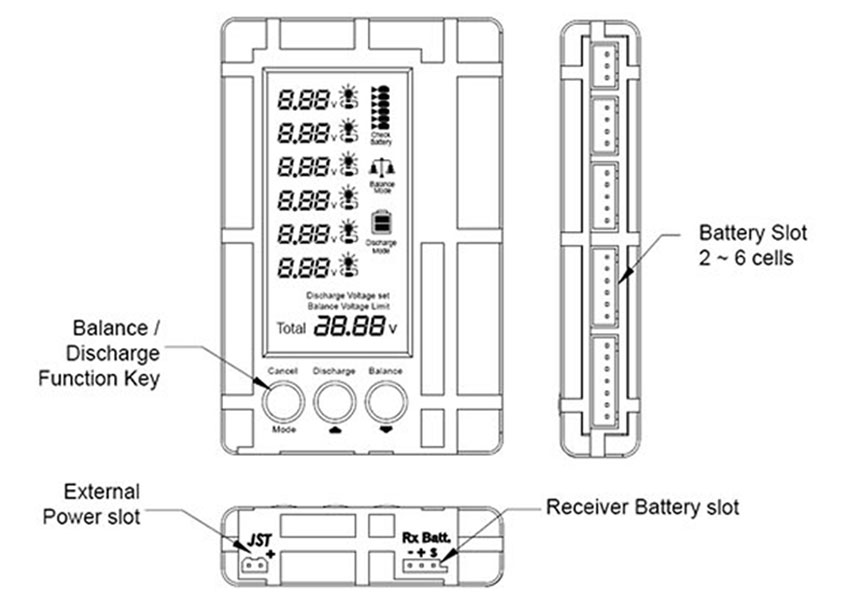 Etronix Battery Doctor Li-Po/Li-Fe Battery Balancer/Discharger/Meter
Brand: Etronix
Product Code: ET0500
Availability: In Stock